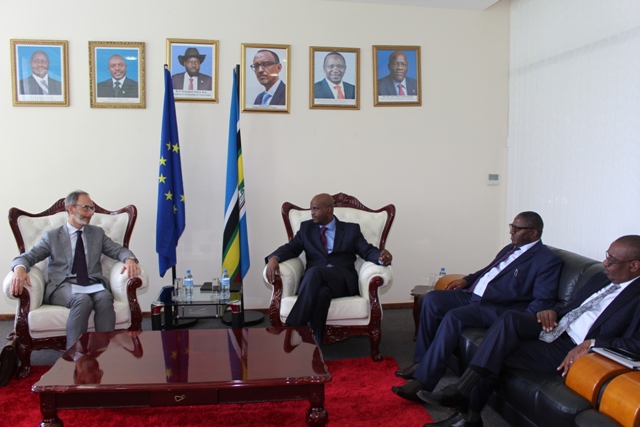 ( from R-L) EAC Director General Customs and Trade, Mr Kennethe Bagamuhunda, Deputy Secretary General Planning and Infrastructure, Eng Steven Mlote,  Secretary General of EAC, Amb Liberat Mfumukeko and EU Amb Manfredo Fanti during the accreditation ceremony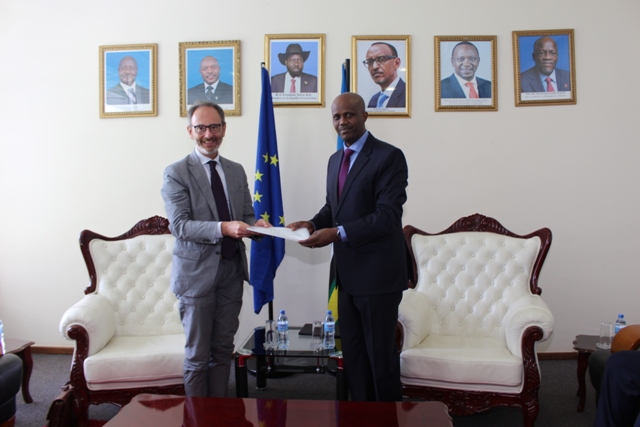 The EAC Secretary General Amb Liberat Mfumukeko ( R) receives credentials from the new EU Amb .Manfredo Fanti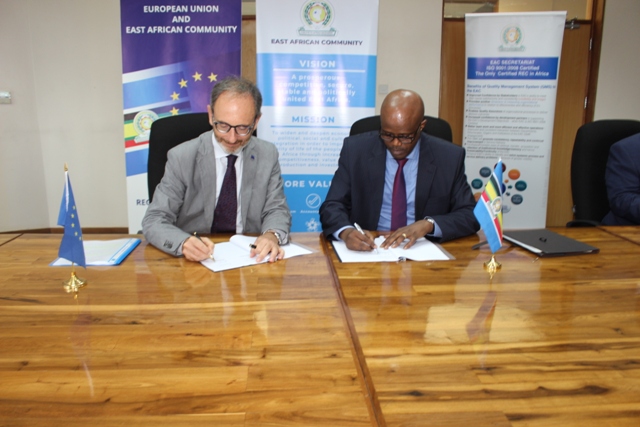 EU Amb .Manfredo Fanti and EAC Secretary General signs financing agreement of 10 million Euros
……………………………………………….
The EU Ambassador to Tanzania and the East African Community, H.E. Manfredo Fanti, and the EAC Secretary-General, H.E. Libérat Mfumukeko, today launched a new 10 million Euros (approx. TShs25.38 billion) joint programme to address regional and cross border security threats in the region.
The programme is a regional response to the various and growing security threats across the EAC region. It will work both on enhancing the technical capacities and building trust between the law enforcement agencies in the EAC Partner States. Without mutual trust, data and information will not be shared. The shared aim is to intercept those engaged in transnational organised crime.
This 45-month programme will be implemented by the EAC Secretariat and the International Criminal Police Organization (Interpol). It will complement several other initiatives to provide peace and security to the people of the EAC.
"Cooperation in this area can work only if there is mutual trust among law enforcement agencies and this is what the programme aims at," said the EU Ambassador to Tanzania and the East African Community.
In his remarks, Amb. Mfumukeko hailed the long standing partnership between the EAC and the EU in the peace and security sector which he said was a key enabler to the integration process in East Africa.
"The current phase of the EDF11 has set aside 85 million Euros for a variety of interventions supportive to the various integration initiatives, among them peace and security. The EAC is also a beneficiary of the 528 million Euros through a regional enveloped that also covers IGAD, COMESA, IOC and SADC," said Amb. Mfumukeko.
"Since 2007, the EU has extended support to the EAC through various initiatives including the APSA support project (about Euro 10 million cumulative to date) whose 4th phase is still under negotiation, the Conflict Prevention, Management and Resolution Project whose implementation ended in 2012 (4.8 million Euros) and the Eastern and Southern Africa-Indian Ocean (ESA-IO) Maritime Security Project whose implementation ended on 14th October, 2019 (11.6 million Euros)," said the Secretary General.
"The project being launched today will seek to reduce opportunities for transnational and cross border threats to the integration process through support to policy development and implementation, enhanced political accountability, structured and institutional information exchange mechanisms, consolidation and extension of ballistic examination capacity, and extension of I/24-7  connectivity to as many One Stop Border Posts as possible," he said.
The Secretary General said the efficient implementation of the proposed interventions will enable the law enforcement agencies to, at a regional level, implement information sharing mechanisms that will facilitate rapid and timely response to threats and enhance security as greater gains are made in the implementation of the EAC Customs Unions and Common Market protocols.
This project will also assist the EAC in the implementation of the recently adopted Peace and Security Protocol and feed into the broader African commitment of "silencing the guns in Africa by 2020."