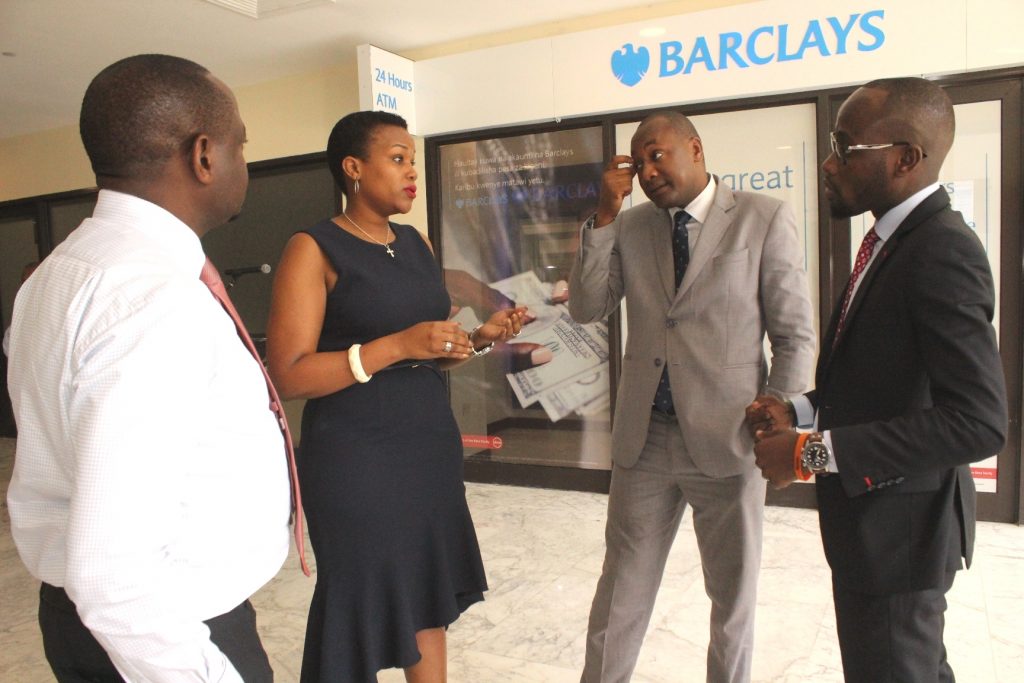 Head of the Barclays Bank External Marketing Unit, Esther Maruma (second left), speaking to the Director of Hyatt Regency Hotel Management in Dar es Salaam, Timothy Mlay (second right), during the official launch of the station exchange of foreign currency bank, hotel in Dar es Salaam yesterday. Others left the Barclays Manager of the City Mall, Winford Mwang'onda and Head of Barclays Private Customer Unit, Oscar Mwamfwagasi.
*******************************
AND EMMANUEL MBATILO
A part of our foreign Exchange Retail proposition, Barclays Bank Tanzania Limited is Proud to announce its expansion of the forex services to customers at Hyatt Regency.
Barclays Tanzania Head of Global Markets, Esther Maruma said "This strategy direction was taken to support cash trading requirements of the public, filling a gap created when Forex Bureaus lost their licenses. We have more than six (6) currencies (TZS, USD, GBP, EUR, KES & ZAR) available for trading immediately".
Esther also added that the bank is evaluating other strategic locations including our ports of entry .i.e. airport, sea ports etc. other regions outside Dar es Salaam to unsure that the network grows even further.
The Bank's Head of Retail banking, Oscar mwamfwagasi commented that as a business strategy, the bank had to view and improve our FX Board rate pricing, making our offer cheaper and more competitive to all our clients trading in cash, online and through our branch foot print. The bank through its branch network will now be cash trading for both account and non-account holders.
"The Bureau will be operating seven (7) days a week as per business working hours; weekdays from 10:00am to 08:00pm, 10:00am to 04:00pm on Saturday, 10:00am to 01:00pm on Sunday and 10:00am to 01:00pm on public holidays. We also have a 24/7 iATM at the same location". Added the bank's Head of Retail Banking, Oscar Mwamfwagasi.