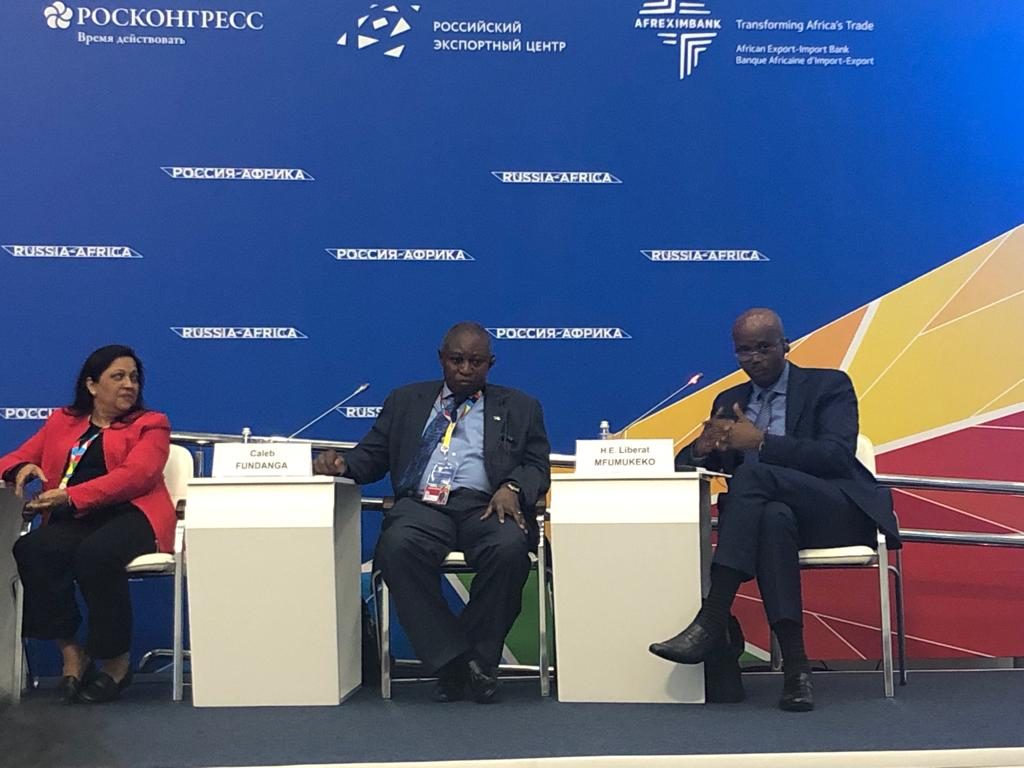 East African Community Secretary General Amb. Liberat Mfumukeko, is participating in the inaugural Russia-Africa Economic Summit which is being held in Sochi, Russia from 23rd to 24th October, 2019.
During the Summit, Amb. Mfumukeko was a panelist in a session which explored potential cooperation ties between Russia and Regional Economic blocs.
The Secretary General engaged the participants on the status of integration in the EAC. He informed the forum that EAC has a population of 168.2 million and a combined GDP of US$155.2 billion making it one of the Africa's fastest growing regional blocs in Africa.
Amb. Mfumukeko highlighted the key potential areas of cooperation between Russia and EAC saying that there was need for both parties to examine the trading landscape between themselves and optimise what each party can produce for the others' market. 
"One potential area where the EAC is deficient is the provision of critical services for business and investment in areas like transport, logistics and technicians. Both parties need to explore the existing gaps," he said.
The SG said that the EAC economies were still virgin and quite endowed with massive natural resources, adding that Russian investors ought to come to the EAC and explore how to exploit this potential.
"There is need to organise periodic bilateral traders/investors interactions through visits and trade and investment fairs," said the SG, adding that the EAC Partner States and Russia should explore the possibility of removing travel restrictions such as travel visas to enhance the movement of persons between both parties.
Amb. Mfumukeko said that there was need for the EAC Partner States to develop education and youth exchange programmes in addition to exploring the development of the respective languages of each party in the education curricula of the other party.
The Forum is the first where the rich history of cooperation between Africa and Russia is being re-examined.
Among those attending the two-day Summit are government officials and members of the business community from both Russia and Africa. The delegates aim to substantively discuss the current status and prospects of cooperation and a wide range of topical issues of the World Economy.
Russia acknowledges the fact that today African countries are well on their way towards social, economic, scientific and technological development and are playing a significant role in international affairs. Russia further appreciates that African countries are strengthening mutually beneficial integration processes within the African Union which has eight (8) Regional Economic blocs among them the EAC.
The EAC Partner States' led by their Heads of State also also participated in the Summit.