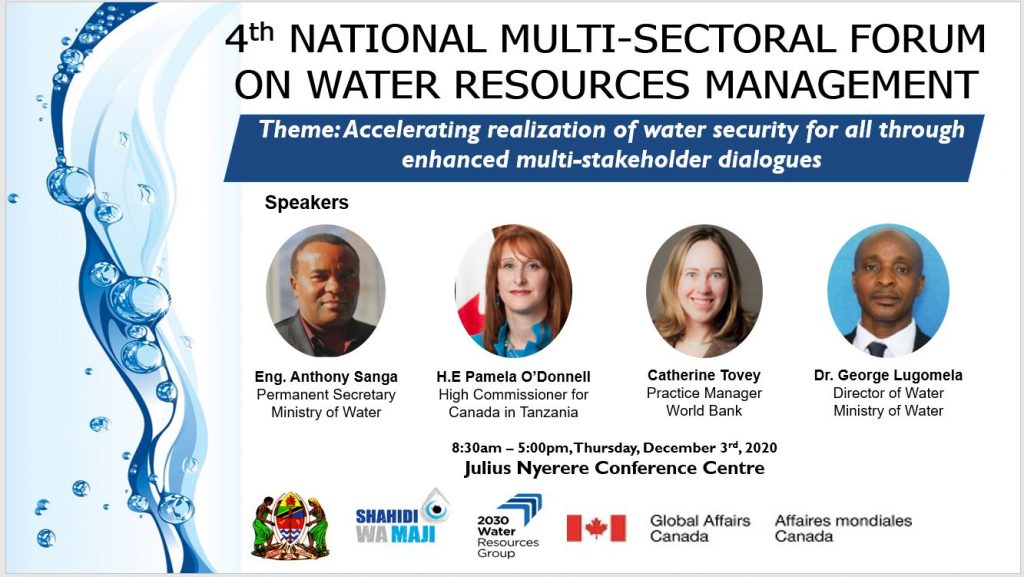 ………………………………………………………………………………….
This Thursday, 3rd December 2020, stakeholders from across the Tanzanian water sector will gather in Dar Es Salaam for the annual National Multi-Sectoral Forum (NMSF) on Water Resources Management and Development. The event aims to enhance collaboration, build synergies, and highlight opportunities for collective action in water resources management. Decisions about how to allocate and use water in an efficient, sustainable and equitable manner are fundamental to Tanzania's future, underscoring the importance of a successful outcome on Thursday.
Now in its 4th year, the event has already catalysed important improvements in our nation's water sector, helping to usher in improvements for Tanzanians and their communities. 
Permanent Secretary, Ministry of Water Eng. Anthony Sanga said Tanzania's progress in implementing Integrated Water Resource Management (IWRM) is now estimated to score 54 out of a possible 100, an increase from a score of 50 just three years ago. This puts Tanzania in the Medium-High category of IWRM implementation according to the global scale developed by the United Nations. 
Most African countries – 71 per cent – are in the medium-low to very low categories of IWRM implementation, meaning that their capacity for effective implementation is largely inadequate, with most IWRM-related activities undertaken on an ad hoc basis due to unsustainable financing.
The PS further said that Implementing IWRM not only supports targets for water security, but also targets the wider spectrum of sustainable development and use of water resources in various sectors including agriculture and energy production, sustainable and resilient towns and cities, health and gender equality, among others. Tanzania's improvement in the standings signal that the country has successfully promoted the coordinated development and management of water, land, and other related resources – essential to maximising economic and social welfare for all – without compromising the environment.  
Led by the Ministry of Water (MoW) and supported by the World Band and the 2030 Water Resources Group (WRG), the NMSF was officially adopted by the Government of Tanzania in 2017 following piloting that was carried out by the MoW and 2030 WRG between 2013 and 2016.
"Following the successful delivery of the first official NMSF in 2017, the MoW with support from partners initiated a process of establishing Basin Forums in all nine basins; with some basins cascading further the forums to catchment level. The NMSF has continued to successfully mobilize both financial and in-kind support, and it is currently working towards establishing effective operational working groups as part of an implementation strategy with the view to achieve water security for all. 
This is impressive progress in a short amount of time, but challenges remain." Eng. Sanga said. 
He added that sufficient and reliable supply of water will be necessary to expand the manufacturing sector, increase hydropower generation and intensify agricultural production in line with the national development vision of 2025. Despite having abundant water resources, extreme hydrological variability means that during dry periods, demand for water exceeds available supply by a large margin. Under a business-as-usual scenario and factoring in climate change and economic growth projections, demand may exceed supply by a great margin during dry periods come 2035.
The PS  call on forum attendees, sectors, water stakeholders, and fellow citizens to seize on the progress we have achieved and continue building momentum towards a more sustainable and water secure future, together.